December 9, 2020




4:00 pm - 7:30 pm
That's what's what they are called. I don't have a barn, but if I did, I would have a really big barn quilt hanging on it! I love the design of these awesome 18″x18″ framed barn quilts. Paint them up to add to your rustic or modern home décor – you choose!! In the sample, we painted the engraved lines gold to give our project a more modern feel!
These will available as a kit only. The Barn Quilt kit will include everything you need to complete the project!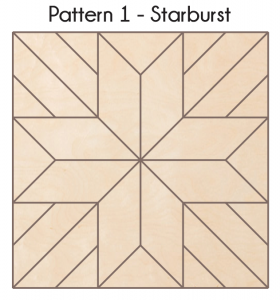 If the set pick up time does not work for you, purchase the kit (so you don't miss out!), and then email me to choose a different pick up time!
Wednesday, December 2, 4:00 pm – 7:30 pm
Saturday, December 5, 11:00 am – 3:00 pm
Wednesday, December 9, 4:00 pm – 7:30 pm
Saturday, December 12, 11:00 am – 3:00 pm
Venue Phone: 780-906-8196
Address:
10808-129 Ave NW
,
Edmonton
,
Alberta
,
Canada
,
T5E 0L6